Create an affordable interior with our Contract Range Craftwood shutters.
We are delighted to be able to offer our contract range shutters, favoured by property developers, house builders and landlords.
Craftwood shutters are made from MDF with an engineered wood core and wrapped in a silky polypropylene skin. This makes the shutters very stable, tough and durable which is ideal in any busy home or office environment. Easy to maintain, Craftwood shutters are highly resistant to fading, chipping, cracking or warping.
Available with tilt rods or with an easy tilt mechanism, you can choose from five shades of white, five different blade sizes and hinge colours.
Price per square meter: From £190.00 (inc VAT), excluding installation charge. The lead time is approximately 9-12 weeks.
Contact the TNESC sales team on 020 8675 1099, use our contact form, or email enquiries@tnesc.co.uk for pricing and advice. Visit our London Showroom to view our extensive range of designs and finishes.
Please note that the New Year Special Offer 25% off does not apply to MDF Shutters.
MDF-Craftwood
Perfect for small to medium sized windows in a busy home or office areas.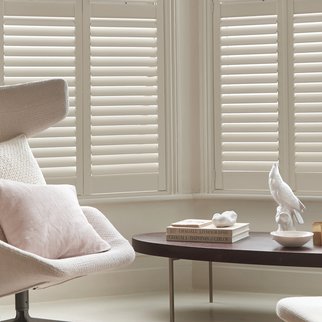 MDF - CRAFTWOOD
Full Height
Midrail
89mm blades
Off Set Tilt Rod