Why is everyone buying bedroom shutters in 2018?
2018 is a great year for interior design and style. Plenty of people are taking notice of their home, how it looks and also how they can make sure that it looks better. When you decide that the time has come to make your home look better, you are going to want to find the best ways to do it. Some may opt for painting the walls, some may decide to treat themselves to some new furniture.
You might not immediately think of them, but are another great option to consider for your home. But why is this? What makes 2018 the year for the rise of the bedroom shutter?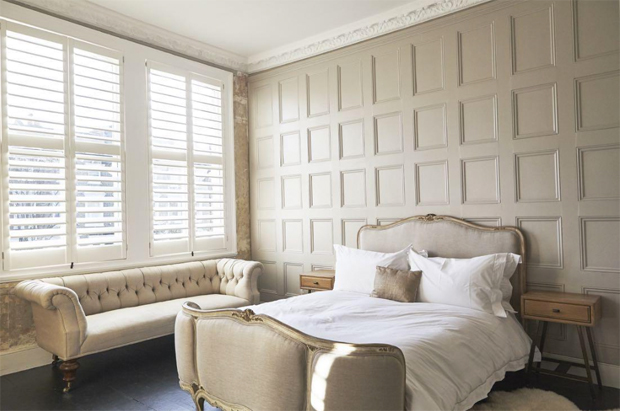 Privacy
When it comes to your bedroom, there is a good chance that you are going to want to make sure that you feel secure and above all else, private too. After all, it is your space and you won't want people to be able to look in and see you. Curtains, of course, offer privacy but they need to be drawn in order to do this, which blocks out the outside world completely. In comparison, bedroom shutters allow you to keep your space private whilst still allowing for light to come in. The ideal balance.
Temperature Control
If you want to be able to get a good night's sleep, then you are going to need to make sure that your bedroom is the perfect temperature. This isn't always easy to do. are known to be able to help keep heat in a room, as well as allowing you to open them up, along with the window and keep a breeze flowing through. These are ideal when you want to make sure that your bedroom is the optimum sleeping temperature.
Beautiful Design
Whilst we are not going to be inviting lots of people into our bedrooms any time soon, that doesn't mean that you don't want to have a space that you are proud to call your own. A simple way to create a beautiful bedroom is to install wooden bedroom shutters. They are not only available in a variety of styles, but they are available in a range of colours too.
De-Cluttering
The last thing that you are going to want is to have a bedroom that is cluttered and feels messy. This not only looks less than inviting, but also, a messy room can have an impact on how well you sleep too. Meaning that wooden shutters could be the helping hand that you need to wake up feeling refreshed and ready to face the day.
So, now you know why bedroom shutters are the ideal addition to your home, why not make 2018 the year that you make the investment? We can promise you, over the rest of the year, with a private, dark and warm room, you will be more than happy with your choice.