How Can Wood Shutters Help You Cool Down This Summer
Funding energy can generate up to half of the total running costs of a home and where this may be a challenge during winter, it can be an equal, if not greater struggle during the summer months. Certain tactics have proven helpful when cooling a home such as maintaining your existing cooling system with regular checks and changing the filter monthly as well as closing in gaps of the home, but much of a home's energy is wasted through open windows.
There is a practical and attractive way to solve this problem: wood shutters. Wood shutters, made to seamlessly fit your windows are a fantastic way of keeping your home cooler during the warmest months of the year and here are just some of the ways they do it.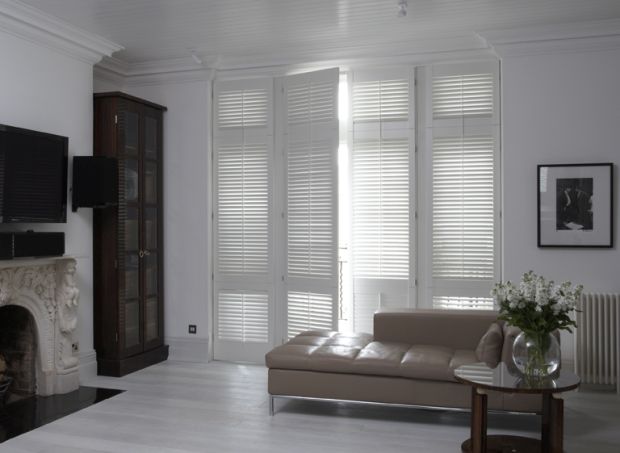 Careful Consideration for Colour
Wood shutters can now be brought in a huge variety of colour options to suit your home interiors and personal style but when it comes to choosing wood shutters for maximum energy efficiency, colour takes on a whole new meaning. Dark colours add a rich and cosy atmosphere to an interior space and what is more, absorb heat from the sun helping to keep your home cooler.
Rooms facing east will be hotter during the morning while windows facing west will maintain more heat during the evening.
Northern exposure rooms have less sunlight and therefore tend to be cooler, but rooms with a southern exposure will have some level of sunlight throughout the day, so homeowners should always make sure that these rooms utilise lighter shades of colour or white for maximum energy efficiency.
Better Light Control
With curtains and even blinds gaps can appear, allowing the sun to flood the room even when they are closed. What is great about wood shutters is their solid material and the fact that they're designed to lock together, keeping your home cooler, and allowing the sunshine and breeze in when you want it.
Various types of wood shutters offer different advantages for light control. Full length shutters will cover the entirety of a window, so the whole window can be opened or closed. Café shutters cover the bottom portion of the window, so they add a bit of style while allowing the homeowner to control strong sunlight primarily in the morning and evening. Plantation shutters cover the entire window but can be opened and closed individually. These shutters are championed for their beauty and high functionality and are of course, excellent at keeping the interior of any home cool during the summer.
Pair with Other Window Treatments
The cooling effect of wood shutters is great, but on the hottest of days, your home might need a little extra help in keeping the cool air in and the heat of summer out. Wood shutters offer many benefits and look beautiful on both the interior and exterior of a home. They also pair great with drapes to offer a little added comfort without interrupting the exterior look of your home.

When choosing your wood shutters it is important to think of the home's décor, but you may also want to consider purchasing shutters in a colour that works with a range of different styles. Homeowners can maximize the use and functionality of their shutters by choosing a versatile colour. This is one of the reasons why so many homeowners choose neutral colours as it pairs best with most colours of curtains and other drapes to maximize energy efficiency.
Wood shutters, whether painted or left natural, are beautiful features in any home and have the added bonus of aiding temperature control. Take the time to examine your home's energy uses and see if wood shutters are the right choice for you and your home.
Click the link provided to explore our luxurious range of plantation shutters