Perfect Patterns to Complement Your Wood Shutters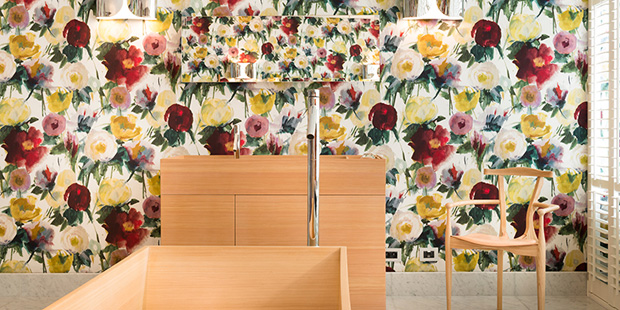 If you have been on the fence about installing wood shutters, now is the time to act. Wood shutters add significant value as well as optimal temperature control to any size home. Intimidation is often the reason homeowners avoid wood shutters. They may feel as though designing to fit the shutters might be a challenge, but allow us to put your mind at ease. It is easy to design a room completely around your beautiful new wooden shutters and here are the perfect patterns to complement your wood shutters.
Bold Lines
Interior design can be a challenge, but sometimes it takes a bit of boldness to bring out the best in your wood shutters. Bold striped patterns can be an abrupt change, but remember, most wood shutters maintain the same lines. Wide slats offer light control as well as an easy configuration for bold line designed patterns. Whether you prefer soft pastel hues or deep, rich colors, you can never go wrong with paring them with wood shutters. Start out small, such as a simple seating area featuring the bold line design in blue, green, or even red. The subtle accent will add a significant amount of style to the space and complement the shutters beautifully.
Florals
This is an area in which some homeowners love, while some truly loathe, but florals can work well with wood shutters. Where wooden shutters allow the outdoor world to come inside, floral patterns bring a natural, comfortable feel to the space. Today's floral patterns do not have to be the stark, almost eye numbing patterns that our grandmothers were forced to put in their homes, but can actually be quite subtle. Modern takes on floral patterns are abstract views of popular flowers and work great with wood shutters as well. For those that want to maintain tradition without going overboard, accent pillows, throw rugs, and floral upholstered accent furnishings are an option.
Chevron Patterns
Straight lines are not always appealing to everyone, but chevrons offer a modern take on straight lines that often appeals to more people. Chevron patterns are available in practically every color of the rainbow, so you never have to be intimidated by their use. Options for wide stance chevrons for more of a bold approach or thinner lines for a bit more subtlety. Chevron patterns offer a wide selection of available style options with wood shutters and pair well with most any color and style. Choose bolder colors for a modern design, or for designers that want more of a homey, lived in feel, faded pastels are excellent.
Geometric Shapes
Geometric shaped patterns have always been around, but recently have made an extreme comeback in the interior design world. The reason these patterns have come back into play is because they are not boring and stagnant patterns, but seem to have a certain movement and style all their own. Light play offered by natural light flooding through wood shutters exemplifies the movement and interest of these patterns much more effectively than drapes or standard blinds. Again, this is a pattern that can be virtually anything you want it to be, from subtle pastel shades to bold colors and even various line thicknesses to give your space the exact look you desire.
Textured Patterns
Patterns that work best with wood shutters are not merely based on a flat design, but can have texture as well. Not all wood shutters have a flat design either. Many have various faux leather textures and patterns that provide a unique quality to the look. Consider moving that same option into your interior furnishings. Various textures throughout a room give the eye something to look at as opposed to simple, finishes. Textured pillows, carpeting, and accent chairs offer something new to guests without overpowering the senses. Always shop by color, pattern, and yes, texture when picking out your favorite furnishings for wood shutters.
Wood shutters bring a lot to interior design, but when paired perfectly with these patterns, the room takes on a whole new life. These are the most common patterns you will likely see with wooden shutters, but they are not the only ones available. Professional interior designers are always working to incorporate new patterns and therefore, you as your home's interior designer must be vigilant in seeking out new, interesting patterns. Give these a try and even consider bringing multiple patterns together. Wood shutters work well with most designs, so do not worry, you are not going to mess up your interior home design.