Create an urban chic interior design with this popular weather look with industrial accents.
The traditional method of "Liming" has long been used as a finish on exposed timbers to accentuate details and create dramatic, contrasting white highlights on open grain woods such as Oak or Ash. Dating back to the 16th century, "ceruse", a white lead derivative, was used as a cosmetic by luminaries such as Queen Elizabeth I. Highly toxic on human skin, it transcended to cabinetmakers who used the paste to fill the porous open grain of Oak planks
Today, Liming Wax is a non-toxic white wax used to create the "cerused" effect on Oak and other interior hardwoods such as Ash. It gives a dramatic grained finish to open grain timbers thus creating an interesting 'limed' or 'patinated' look. Applied by hand, the limed finish is similar to a pickled or whitewashed finish.
The pores of Oak or Ash are first opened with a brass bristle brush. The wax is then wiped into the open grain wood such as Oak or Ash and wiped off the surface to leave a stunning white contrast in the wood grain highlighting the natural lines and patterns of the wood.
Made from solid oak or ash, the shutters are made to measure with a choice of 5 different blade widths.
Traditional Limed Wax
Traditional Limed Wax finish offers a stunning white contrast in the wood grain.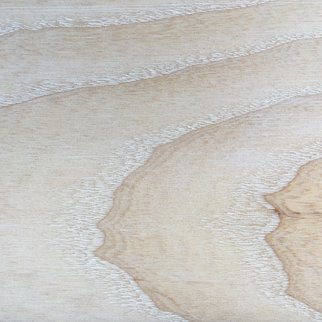 Traditional Limed Wax
Traditional Limed Wax